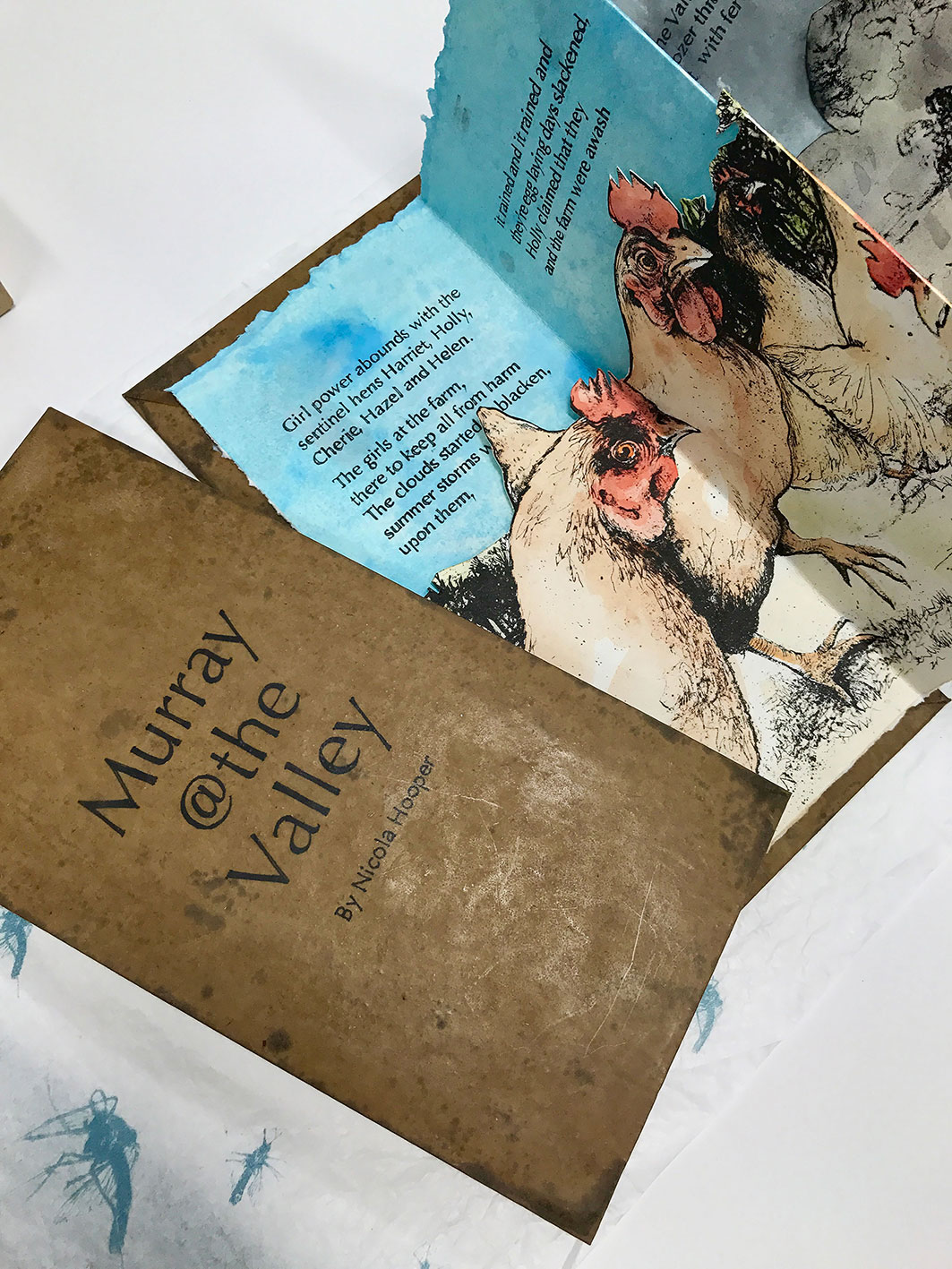 2017
Hand coloured lithographs with encaustic citronella cover
13.5x25cm Folded
The sentinel chickens are the first line of defence against mosquito borne viruses.
This mosquito repellent artist book was inspired by a trip to visit the sentinel chickens at Baringhup West, VIC in March 2017. This visit coinsided with an outbreak of Ross River Fever in Melbourne and the subsequent increase in funding for the sentinel chicken program by the Victorian Government.
This lithographic artist book uses created rhymes and drawings as narrative tools. It considers the perception of animals used in fables and folklore (nursery rhymes) in the context of fear of zoonoses. It is suggested that these rhymes can act as cautionary tales that prevent children and adults from acting in ways which could be harmful and reinforcing the need to use insect repellents to protect against mosquito borne viruses.
Nicola Hooper is currently undertaking a Doctorate of Visual Art at Griffith University's QCA campus.  She holds a Master of Visual Arts with class 1 honors. Hooper uses drawing and lithography as a narrative tool to consider human's fear of animal hosts in the context of their association with zoonoses.  She draws parallels to their representation in tales and rhymes as a way to understand the
natural world. 
She has been the recipient of several awards:  2017 Rio Tinto Prize Digital Winner and 2015 Qld Regional Art Awards Watercolour Winner.  Hooper has been a finalist in a number of national prizes:  Waterhouse Art Science prize, Hazelhurst works on Paper, Libris Artist Book, and Fremantle Print to name but a few. Her work has been exhibited extensively and is held in public and private collections.