12 Months Over the Gulf of Carpentaria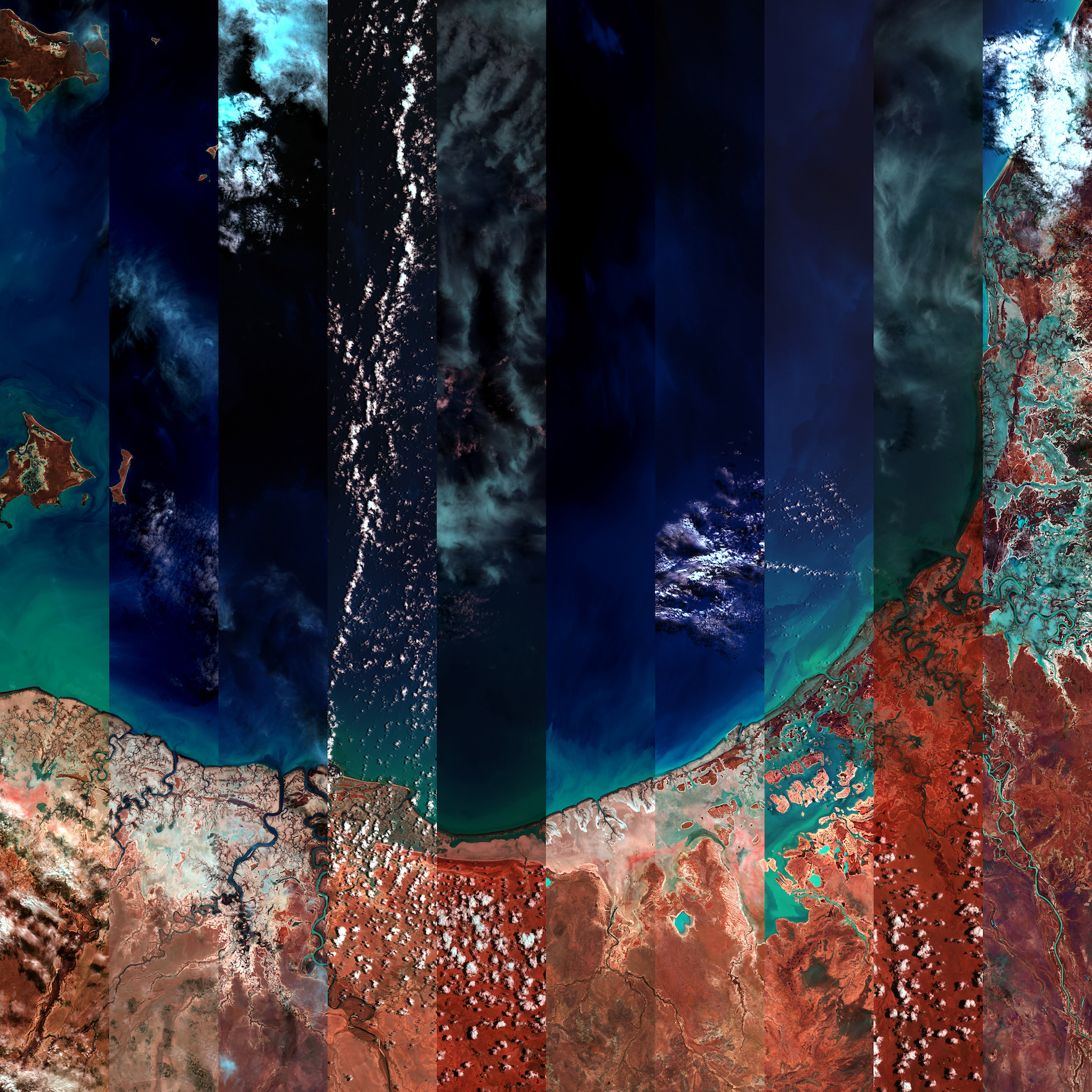 For the past 40 years, NASA Landsat satellites have orbited the Earth. Performing what is known as 'remote sensing', they use sensors that record both visible and infrared light, to produce data used by geoscientists and the private sector to track environmental change over time.
12 Months Over the Gulf of Carpentaria is precisely that: a time-lapse mosaic of satellite images over the Gulf, showing the changing atmospheric conditions over a period of a year.
Produced through a partnership with Geoscience Australia and the Digital Earth Australia platform, this image is part of an ongoing exploration of how creative uses of satellite data can both reinforce the environmental monitoring function of the Landsat program and introduce new conceptual and artistic dimensions.
This project seeks to release satellite imaging from a directly instrumental purpose, fostering a way of knowing that acknowledges our connectivity to and feeling for the world.
Biography
Born in New Zealand and based in Australia, Grayson Cooke is an interdisciplinary scholar and media artist, Associate Professor of Media in the School of Arts and Social Sciences at Southern Cross University. Grayson has presented media art and live audio-visual performance works in Australia and internationally, and he has exhibited and performed in major international festivals such as the Japan Media Arts Festival, the WRO Media Art Biennale, the Imagine Science Film Festival in New York, VIDEOFORMES in France and the Currents New Media festival in Santa Fe. As a scholar he has published widely in academic journals, and he is also an associate editor for the scholarly journal Transformations. He holds an interdisciplinary PhD from Concordia University in Montreal.